ABOUT THE CASE
Successful campaign for Küchenquelle reducing the CPM by 28% and lowering Cost per Visit by 31%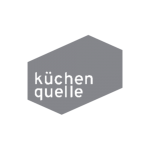 Challenge
Although Küchenquelle's expertise in TV leads back to its first spot aired in 1997, they were looking for a new partner in order to scale up their operations using TV advertising. Videobeat was confronted with the challenging task of supporting Küchenquelle, which was already experienced in the TV market, improving their TV performance and at the same time, increasing their brand awareness through a KPI-oriented media planning.
Videobeat's Approach
What started off as a small test campaign in performance TV channels in April 2017, led to continuous TV campaigns throughout the year and a bigger take on programmatic video ads in late 2017.  Consequently, it was also decided to let Videobeat create commercials, which already proved their resounding success at the beginning of 2018. In late 2018, Videobeat helped further scale Küchenquelle with branding campaigns across major German TV channels.
Result
Videobeat and Küchenquelle developed an in-depth partnership, successfully executing several video marketing campaigns. Videobeat was able to reduce Küchenquelle's CPM by 28% and the Cost per Visit by 31%. Hereby, Videobeat was able to prove its qualities in video marketing across platforms while keeping pace with a scaling company.